It may still feel HOT in Central Texas, but fall will be here before you know it! This year has been one for the record books, so we wanted to share our favorite list of fun, affordable fall activities that your tribe can do together.
Mallach and Company's Bucket List for the Fall Season in Central Texas: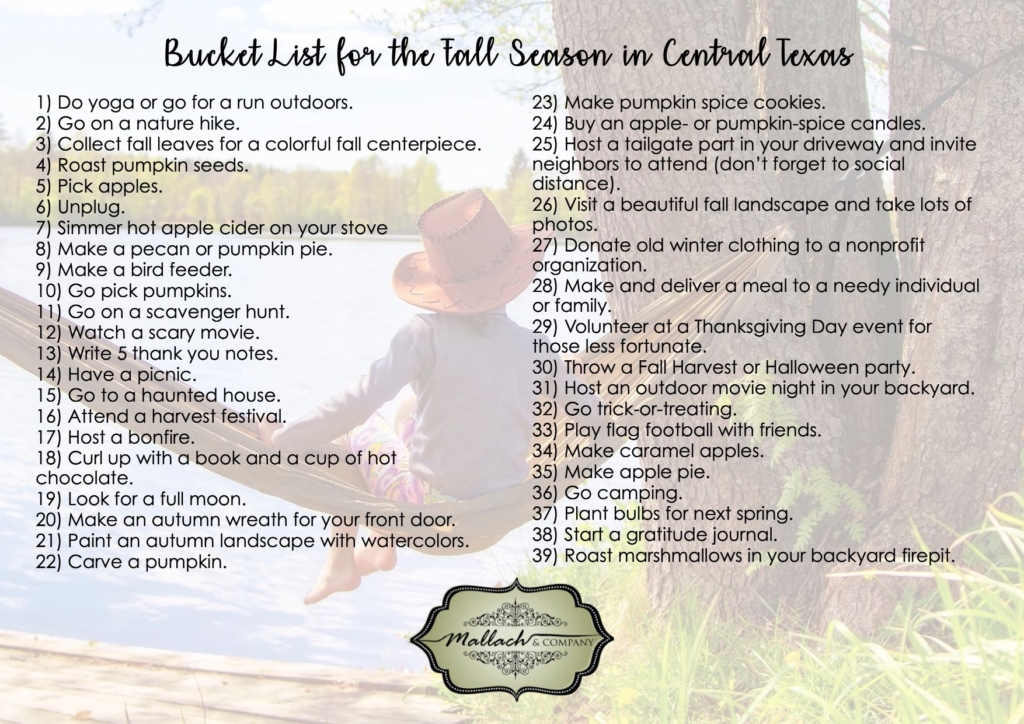 1) Do yoga or go for a run outdoors.
2) Go on a nature hike.
3) Collect fall leaves for a colorful fall centerpiece.
4) Roast pumpkin seeds.
5) Pick apples.
6) Unplug.
7) Simmer hot apple cider on your stove
8) Make a pecan or pumpkin pie.
9) Make a bird feeder.
10) Go pick pumpkins.
11) Go on a scavenger hunt.
12) Watch a scary movie.
13) Write 5 thank you notes.
14) Have a picnic.
15) Go to a haunted house.
16) Attend a harvest festival.
17) Host a bonfire.
18) Curl up with a book and a cup of hot chocolate.
19) Look for a full moon.
20) Make an autumn wreath for your front door.
21) Paint an autumn landscape with watercolors.
22) Carve a pumpkin.
23) Make pumpkin spice cookies.
24) Buy an apple- or pumpkin-spice candles.
25) Host a tailgate part in your driveway and invite neighbors to attend (don't forget to social distance).
26) Visit a beautiful fall landscape and take lots of photos.
27) Donate old winter clothing to a nonprofit organization.
28) Make and deliver a meal to a needy individual or family.
29) Volunteer at a Thanksgiving Day event for those less fortunate.
30) Throw a Fall Harvest or Halloween party.
31) Host an outdoor movie night in your backyard.
32) Go trick-or-treating.
33) Play flag football with friends.
34) Make caramel apples.
35) Make apple pie.
36) Go camping.
37) Plant bulbs for next spring.
38) Start a gratitude journal.
39) Roast marshmallows in your backyard firepit.
Do you have a favorite fall activity? Drop us a line! We're always looking for creative ideas to add to our Bucket List for the Fall Season in Central Texas.